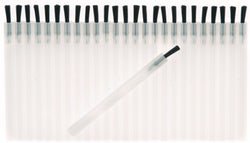 Dental Technologies
BRUSHES
 Disposable brushes for applying liquids of different kinds. There are two refill sizes available for the brushes:
 Brushes with short shanks for use in brush handles

The need for a brush holder is eliminated by the use of long shank handles.

Provisional supplies are required for a dental practice. In our medical equipment Office, our dental supplier has every piece of equipment.